| | |
| --- | --- |
| | DIRECTIONS |
The RIKAB Institute is located near the basilic of Koekelberg in Ganshoren. Address: Prins Boudewijnstraat 71 (= 71 Rue Prince Baudouin), 1083 Ganshoren (Brussels), Belgium. Phone: +32-02-428 2013. Fax: +32-02-420 1324.
GO HERE for maps of the area around the RIKAB Institute and a larger-scale map of Brussels with RIKAB indicated.
GO HERE for underground, tram and bus maps (including walking directions from bus stop BRUSSELAARS and tram stop SPIEGEL).

Arriving by car
1) Take the motorway to BRUSSELS
2) Take the big perephery to GROOT-BIJGAARDEN
3) Take exit KOEKELBERG (=Brussel Centrum)
4) Follow mainstreet (Avenue Charles V)
5) Turn left at the Heilig Hart School, at the last intersection before the basilic of Koekelberg
6) Cross two intersections, the RIKAB building is on your left
7) Park in the private parking lot
Arriving by plane at Brussels Airport
1) Go to the train station on the lower level inside the Airport building. Take the train to BRUSSEL NOORD (GARE DU NORD). Trains leave every 20 minutes and the ride takes 15 minutes.
2) From BRUSSEL NOORD, choose one of the options listed below ("Arriving by train at Brussel Noord (=Gare du Nord)")
Arriving by train at Brussel Noord (=Gare du Nord)
Direct option
Take Bus 14 in direction AZ VUB to bus stop BRUSSELAARS (16 minutes) and walk 3 minutes to RIKAB
Indirect option
1) Take a short walk to Metro (Underground) station ROGIER. Take Metro Line 2 to SIMONIS
2A) Walk 10 minutes to RIKAB, or
2B) Take Bus 13 in direction AZ VUB to bus stop BRUSSELAARS and walk 3 minutes to RIKAB, or
2C) Take Tram 19 in direction DE WAND, get off at tram stop SPIEGEL and walk 3 minutes to RIKAB
Arriving by train at Brussel Zuid (=Bruxelles Midi), e.g. on Eurostar/Thalys
1) Take Metro (Underground) Line 2 to SIMONIS
2A) Walk 10 minutes to RIKAB, or
2B) Take Bus 13 in direction AZ VUB to bus stop BRUSSELAARS and walk 3 minutes to RIKAB, or
2C) Take Tram 19 in direction DE WAND, get off at tram stop SPIEGEL and walk 3 minutes to RIKAB
| | |
| --- | --- |
| | HISTORY OF SHOGI AT THE RIKAB |
The RIKAB has hosted the European Championship four times in a row (1994 through 1997). To get a flavour of what to expect, here are two pictures of the last championship that was held there.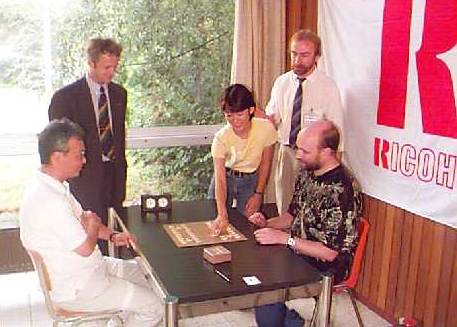 The first move of the first game of Steven Cain (sitting right) and European Champion Toyokazu Myamoto (sitting left) was made by charming female pro and guest star Yamato Takahashi. Chief arbiter Hans Secelle (standing right) is looking rather sceptical about this move while the representative of Ricoh Belgium (standing left) seems to approve.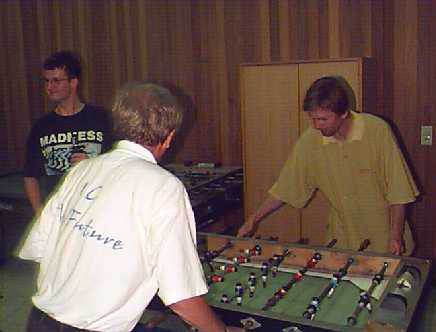 No, this is not an English pub, but the English delegates (from left to right: Steve Lamb, Les Blackstock and Tony Hosking) playing a game of tablesoccer and drinking beer.